"The original and still the best."
You are at the official HypnoBirthing® Institute website.
What is HypnoBirthing®?
HypnoBirthing® is a tried and proven technique, as well as a philosophy that guides and prepares a woman in giving birth in a peaceful and extraordinarily beautiful manner. It is a program that considers the psychological, as well as the physical, well-being of the mother, her birth partner, and the newborn, independent of context, whether that be in the quiet of a home, a hospital, or a birth center.
The HypnoBirthing® program is built around an educational process that includes special breathing, relaxation, visualization, meditative practice, attention to nutrition, and positive body toning. Most importantly it fosters an air of mutual respect for the birthing family, as well as the healthcare provider in a traditional healthcare system or an alternative setting.
We know you have many choices and many decisions to make for your birthing experience. You have choices in selecting your care provider; you have choices in selecting the environment in which you will bring your baby into the world. Another important choice is that of the childbirth education classes you will choose to prepare for the birth of your baby. We know you will be happy with your choice of HypnoBirthing®, a premium childbirth education program.
FREE INFO SESSION
Curious to learn more or meet local educators in your area? Join a FREE Info Session in your area!
Click here to sign up

The HypnoBirthing® Premise 
For most of their lives, women have been inundated with the negative stories of other women's birth experiences. Everyone, from their mothers, sisters, aunts, cousins, friends, and even strangers, wants to tell them horrors about giving birth. They have been conditioned to believe that excruciating pain is associated with labor; and because of this, women today hold an unprecedented fear of giving birth. This extreme fear causes their bodies to become tense, and that tension prohibits their bodies from easily performing a normal physiological function. The result is exactly what they feared most–long, painful birthing or unnecessary intervention.
People who are drawn to HypnoBirthing® have long been searching for a way to give birth confidently and as calmly, safely, and gently as possible, whether they have chosen to birth in a hospital, a birthing center, or at home. Since the medicalization of birth, this kind of birthing (HypnoBirthing®) almost seemed unattainable for the general population.
Through a very simple program of self-hypnosis and education, healthy, low-risk women, as well as women who need medical assistance because of special circumstances, learn to dismiss fear-based stories, misinformation, and birthing myths; and they are helped to see birth as normal. They learn to trust that their bodies know how to bring their babies into the world in the calm and gentle way: the way that nature intended.
What is a HypnoBirthing® Childbirth Educator? 
HypnoBirthing® Childbirth Educators are highly qualified birthing professionals who have distinguished themselves through education, experience, motivation, and dedication to the principles and philosophy of HypnoBirthing® and mother-directed birthing. Additionally, each must meet the requirements as set forth by the Executive Board of the HypnoBirthing® Institute. Your close attention to the course evaluation will ensure that this remains so.
There are thousands of educators across the globe with courses available in-person and virtually. To locate a HypnoBirthing® childbirth educator near you, click on our HypnoBirthing®  Educator Directory.
HypnoBirthing® Classes are taught in a format of five weekly, 2 1/2-hour classes. If you are very near to your birthing time, speak with your local practitioner about making special arrangements for individual classes with you.
Eliminate your fears regarding birth with self-hypnosis
& breathing techniques
For over 3 decades, The Mongan Method has been educating and supporting women in helping them experience a positive birth free from fear.
Read about all the amazing benefits of HypnoBirthing.

"What an amazing method! So instinctive to what Mother's bodies are born to do!!"
Tawny Knight, CA

"After preparing with HypnoBirthing my birth was better than anything that I could have even imagined."
Joy Kraynak

"Just what we needed as we navigated a system that has forgotten the power of a woman and her baby. Many thanks!"
Mary Angelique, CA
When you change the way you view birth, the way you birth will change.
– Marie Mongan
Find a HypnoBirthing Class Near Me
This program is all about empowering families and providing them with education to make evidence-based birth plans.
Add a HypnoBirthing Class to your birth preparation plans to ensure that you will develop an understanding of the birthing body and how its muscles work harmoniously with your mind and your baby when in s state of deep relaxation. As a HypnoBirthing student, you will learn how to reach the level of relaxation free of tension, fear, and resistance. You will learn to surrender to your natural birthing instincts and birth calmly and comfortably.
Where does HypnoBirthing originate?
HypnoBirthing® – The Mongan Method is the work of Marie F. Mongan, Founder and Creator of the HypnoBirthing® Institute. However, this program is based on philosophies and publications from past pioneers in natural birthing, Dr. Gregory White & Dr. Gantly Dick-Read.
Marie developed the HypnoBirthing Childbirth Education program over 3 decades ago when she saw a need in the birthing industry to return back to an intuitive and calm birth. HypnoBirthing was created to allow a mother's body to birth the way it was intended, without interruptions and interference.
The program is based on the idea that healthy women experiencing healthy pregnancies without complications can birth without pain or peril, and should be respected in their decision to birth naturally.
Today, HypnoBirthing is recognized as the Gold Standard of Childbirth Education throughout the world, with classes taught in over 46 countries. 
HypnoBirthing Educators are required to follow the HypnoBirthing® Institute code of ethics in order to maintain their Gold Seal. This Gold Seal assures families that the information they receive is the most relevant, evidence-based, up-to-date, and follows the HypnoBirthing curriculum guidelines.
HypnoBirthing news from around the world
While there are many documentaries about birth and news clips about HypnoBirthing, there has never been a documentary primarily focused on HypnoBirthing. That is soon going to change. At the HypnoBirthing® Institute, we are overjoyed to have connected with...
read more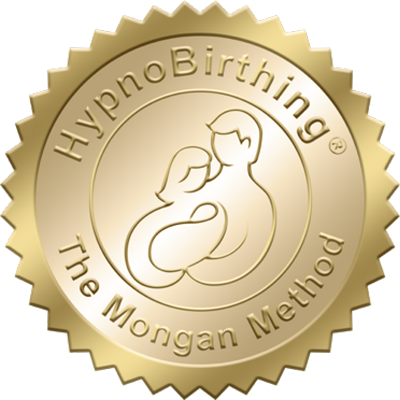 TRUST the Gold Seal of Quality…
The gold HypnoBirthing emblem is a sign of both credibility and professionalism for Educators internationally. This emblem is only given to those Educators who have pushed themselves to successfully complete the extensive HypnoBirthing certification classes and training.