Creating Positive Birth Experiences
Through education, compassion & care
ORIGINAL aND STILL THE BEST



HypnoBirthing Institute
Learn about the 5 session HypnoBirthing Course for expectant parents. This International Program is recognized as the Gold Standard of Premium Evidence Based Childbirth Education!
Educators Across the Globe
Find a Certified HypnoBirthing Educator near you. We have Educators in 46 Countries ready to support you in your pregnancy, birth and parenting journey.
Gold Seal Certified
Join our community of over 1200 educators worldwide and teach the power of HypnoBirthing to expecting parents in your local area. Find an upcoming training to get started.
FREE INFO SESSION
Curious to learn more or meet local educators in your area? Join a FREE Info Session in your area!
Click here to sign up

JOIN US ON FACEBOOK
Join our Facebook group to talk with other parents who are using HypnoBirthing techniques to prepare for birth!
Click here to Join

You will experience birthing in an atmosphere of calm relaxation, free of the fear that prevents the muscles of your body from functioning as nature intended them to. In this calm state, your body's natural relaxant, endorphins, replaces the stress hormones that constrict and cause pain.

It's time for you to de-stress and unwind with our FREE guided Pregnancy Relaxation soundtrack. There are so many benefits for you and for your baby when spending time each day in relaxation. Enjoy this powerful gift!

"What an amazing method! So instinctive to what Mother's bodies are born to do!!"
Tawny Knight, CA

"After preparing with HypnoBirthing my birth was better than anything that I could have even imagined."
Joy Kraynak

"Just what we needed as we navigated a system that has forgotten the power of a woman and her baby. Many thanks!"
Mary Angelique, CA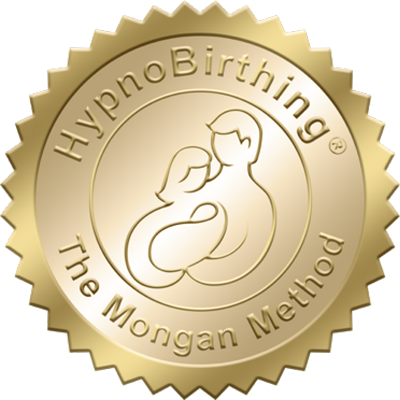 TRUST the Gold Seal of Quality…
The gold HypnoBirthing emblem is a sign of both credibility and professionalism for Educators internationally. This emblem is only given to those Educators who have pushed themselves to successfully complete the extensive HypnoBirthing certification classes and training.