Do you know your birthing options?
Pregnancy is a time that is often filled with lots of joy and excitement, but it can also bring about uncertainty regarding the road ahead. You may feel a little lost in where to get started, how to find the best care for your pregnancy and your baby, how to find support along the way, and what your birthing options even are. Are you going to continue care with your current primary care provider and do whatever they say because "that's what you're supposed to do?" OR will you take the reins, do your own research to understand all of your options, and find the best care for your personal needs and values?
Where do I start in finding Antenatal Care?
An ideal place to begin when researching your birthing options is considering the type of birth you envision. This will help you determine the best type of provider and birth setting because not all providers share the same approach to supporting birth and not all birth settings are equipped to best support all types of births. The way in which you choose to birth is a very personal choice and it should be supported by your birth team. Here are a few different birthing options to consider:
Free / Unassisted / Pure birth – in a home setting or occasionally in another, natural setting
Natural, instinctive birth – in a home setting or freestanding birth center, with the support of experienced midwives and doula
Natural / Physiological birth – in a hospital setting, with an independent midwife or specialist
Natural birth – in a hospital setting, actively managed by the hospital or care providers
Surgical birth / Cesarean Section – in a hospital, with an obstetrician
Once you have an idea on the type of birth you would like, it is important to understand where (birthing place) and who (care provider) will best support you to achieve the type of birth you want.
Your care provider options depend on:
The location where you plan to birth (home, birth center, or hospital)
The options available in your local area (there is not a route for licensure for homebirth midwives and birth centers in all 50 U.S. states)
Your individual health history, healthcare coverage, and special circumstances surrounding your pregnancy & birth
Where you birth will determine your birth outcomes
Do not assume that if you birth in your local hospital that your birth will play out the way that you desire. Not all hospitals and not all birth attendants have the same approach to birth, let alone the same policies. An assumption that your ideas and desires surrounding your birth will be respected, or even considered, may leave you disappointed. Make sure you do your research and ask lots of questions about the policies and expectations before settling on a provider or birthing location.
Parents' expectations are often misaligned with the realities of hospital policies and standard procedures for their care provider, particularly in regards to providers who take an Active Management approach to labor (AML). This is a common approach in hospitals that was originally developed in the '60s in Ireland. While the original intent of this management style was to reduce cesarean rates, it ultimately has contributed to the rise in cesarean rates. Non-the-less, AML procedures are still widely used today. There are providers who attend births in hospitals and who take a more natural or instinctive approach to manage birth, but parent's simply cannot assume.
In 'HypnoBirthing – A Natural Approach to a Safe, Easier and More Comfortable Birthing', Marie Mongan explains why preparing for birth, understanding your birthing options, and selecting the right care provider is all-important. She also details the 4 Management Models used in birth, comparing the standard procedures for each model. This helps parents develop realistic expectations for their birth based on their provider's approach and helps them begin to understand their options.
While we dream of every parent having access to birth support in a range of settings that is evidence-based and culturally matched, the reality is that this is not always possible. In different parts of the United States and across the globe, there are limited resources that can impact the options available to birthing parents. The earlier a family begins the research, the more time they will have to prepare and arrange alternative options to meet their needs and birthing desires.
I essence, your care provider has a significant impact on your birth experience. Communicating with them is going to give you insight as to how they will care for you during your birth. Find a care provider whose management model most aligns with your expectations and desires so that you can get the care that will make you feel supported when you bring your child into the world.
Choices of Care for Pregnancy and Birth
Below are the most common options for birthing locations and providers in the United States. Your choice may be impacted by your health care insurance coverage, so check with your carrier to find out what options are covered by your plan during pregnancy, birth, and postpartum.
In the 21st Century, the vast majority (about 99%) of births in the United States take place in hospitals. In the 1940s, about 44% of births occurred out-of-hospital. If we go back to 1900, the vast majority of births took place at home. It was just a few generations ago that most people were born in their homes, but today most women do not know that they have options outside of hospital births managed by an Obstetrician. However, there are several types of providers that are trained and licensed to provide maternity care in an array of setttings.
Here are the 3 most common settings parents in the United States can choose from for their birth.
Hospitals – Maternity Units & Hospital Birth Centers
The vast majority of births in the United States currently take place in hospitals. Hospitals provide a space where continuous monitoring and quick interventions are readily available. This includes but is not limited to the use of pharmaceutical pain relief (epidurals) and surgical births (cesarean sections). However, a patient's options may be limited or restricted due to hospital policies. When birthing in hospitals, patients typically can expect an active management or standardized style of care.
Birth Centers
Freestanding birth centers are community birth facilities with a home-like feel. For parents who are planning an instinctive birth with minimal intervention but do not have a home that fits their desires for an ideal birth environment, a birth center can be a great option. While birth centers typically have oxygen, nitrous oxide, and other tools available, the apparatuses are typically kept out of sight yet easily accessible if needed. Birth centers may have spacious (often full or queen-sized) beds for both the birthing person and their partner to rest on together, as well as spacious tubs to labor and birth in.
Unfortunately, there isn't a route for birth center licensure in all 50 states. Additionally, there are certain regulations that dictate how a birth center must operate in order to stay open and maintain its license. This many limit access to birth centers in certain parts of the country.
Birth centers are accredited through the Commission for Accredited Birth Centers and can be located through birthcenters.org.
Homebirths
Just one century ago, nearly all births happened at home. In fact, it is more than likely that your grandparents were born at home. Your home provides the comfort and familiarity of your own bed, bathroom, and all of your belongings. A home birth also allows more flexibility in choosing your birthing team. You can have as few or as many people as you desire to be there, ranging from your partner, your child, grandparents, doula, midwife, midwife's assistant, close friends, etc.
Extraordinarily few physicians attend home births. Typically, homebirths are attended by midwives (whether that be a nurse-midwife, certified midwife, or traditional midwife).
For people who are experiencing a low-risk pregnancy and who are looking to avoid intervention, homebirth is a safe and preferred option. Licensed homebirth midwives are trained in safe interventions and protocol in the event of special circumstances and they do bring supplies, such as medications and oxygen, with them to the birth location.
While Obstetricians are the most commonly recognized provider to seek perinatal care from, there are actually multiple types of providers who provide professional care for pregnancy and birth. However, the education they receive does vary and may impact how they view and approach birth. For instance, physicians are educated in the medical model of care, whereas Professional Midwives are educated in the midwifery model of care. Here is an overview of the types of providers in the United States and what makes them unique:
Obstetricians
An obstetrician is a physician who has a medical degree (DO or MD) and has completed a residency program in obstetrics and gynecology. Their residency trains them in providing specialty care for pre-pregnancy health, pregnancy, labor and childbirth, health problems after childbirth, genetics, and genetic counseling based on the medical model of care. Typically, obstetricians only attend births in hospital settings and they may be restricted in the care they provide based on the hospital's policies and their liability insurance.
Obstetricians may work in a group practice, solo practice, or a practice with midwives. Often group practices work on a rotation where the physician who is on-call attends the birth of any patients who deliver during that time period. It is always good practice to ask your care provider who would be attending your birth.
Family Practice Physician
Doctors who practice family medicine are also physicians with a medical degree (MD or DO) who provide primary care for the whole family.
Certified Nurse-Midwives (CNM)
Certified Nurse-Midwives first receive their degree in nursing. Some RN's will work in a Labor & Delivery unit prior to pursuing an advanced midwifery education program, but others go directly into an advanced midwifery education program. Nurse-midwives receive their training in a medical setting, but their credentials allow them to attend births in any setting. CNMs are certified by the American Midwifery Certification Board.
Certified Midwives (CM)
The main difference between a CM and a CNM is that a CM does not have a degree in nursing, rather they usually have a background in another health-related field. However, they receive similar training and often conform to the same standards. Typically, Certified Midwives attend births in an out-of-hospital setting.
Certified Professional Midwives (CPM) & Direct-Entry Midwives (DEM)
Most direct-entry midwives in the United States are Certified Professional Midwives. Their training prepares them to provide a midwifery model of care to patients in their homes or freestanding birth centers. Some CPMs do provide well-woman and maternity care out of doctors offices and clinics. All Certified Professional Midwives in the United States must pass the exam provided by the North American Registry of Midwives (NARM) in order to be certified.
Traditional Midwives
Some midwives choose not to pursue certification or licensure. These providers may also be referred to as lay or community midwives. Training and education for traditional midwives can vary greatly as there is no way to verify education outside of certification and/or licensure. Typically, they attend births in the community setting (freestanding birth centers and home births).
Now that your options have been outlined, you are on the right track. Still, how will you navigate these options and how can you feel confident that your provider is truly supportive of your birth plan? How will you really know that this is the best care provider for your birth?
Explore the articles below to get a deeper insight into navigating these different options. We recommend starting with our article on choosing the right care provider. 
The next step would be to enroll in a pregnancy education program to support you in this decision-making process. Click here to learn more about our internationally recognized curriculum.
While you know yourself and your needs better than anyone else, these resources can give you advice on the questions to ask your care provider, the language to listen for, and why a birthing option you originally overlooked might actually be more aligned with your birth expectations.
Wishing you a beautiful birthing day!
Last night, during a private lesson I was teaching, the pregnant mother continually referred to "Baby Boom", her source of knowledge on everything about birth. For those who don't know, "Baby Boom" is a reality show that follows couples through their classic pregnancy...
read more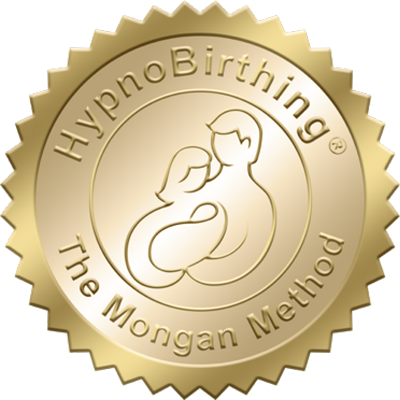 TRUST the Gold Seal of Quality…
The gold HypnoBirthing emblem is a sign of both credibility and professionalism for Educators internationally. This emblem is only given to those Educators who have pushed themselves to successfully complete the extensive HypnoBirthing certification classes and training.