My husband and I had such a great experience prepping for the birth of our daughter by taking the HypnoBirthing class. It made such a difference, so much so, that nobody believed I was in active labor! lol After the amazing and smooth birth of my daughter I was delighted to bring her to the beautiful baby spa at their location. Our daughter was not sleeping through the night for a long time and the moment we brought her over we actually had our first 8 hours of uninterrupted sleep! (a big deal for zombie parents lol) I highly recommend Amazing Births and Beyond for their classes and their baby spa. You will not regret it <3
Do yourself a favour! Before we met Meaghan I was terrified of giving birth, to the point I felt anxious all of the time. A couple of my friends recommended Meaghan and I am so thankful they did. After just a few sessions we had confronted our fears, learnt so much and were armed with an arsenal of visualisations and breathing exercises to help us on our birth journey. For us, knowledge was power. I cannot recommend Meaghan highly enough. She's amazing! Even my husband who was sceptical at first got so much out of the experience.
Serene helped my husband and I prepare for the birth of our first child immensely! After taking her course [HypnoBirthing] I felt empowered to advocate for myself and fully capable of facing any challenges birth may present. If you take the time to read the provided literature and practice the course is well worth the time and money spent.
Barb's hypnobirthing course prepared both my husband and I to have a wonderful birthing experience. Before taking the course, I was fearful of birth and didn't know what to expect as this was my first pregnancy. Each week, Barb walked us through our fears and provided our group with invaluable tools in order to help us overcome those fears as well as give us the ability to manifest the birthing experience we envisioned. Come my birthing day, I had the exact experience that I had visualized – it was beautiful, safe, empowering and calm. I can't thank Barb enough for sharing her knowledge, calm energy and love with her students! I would recommend every expecting mother take Barb's course!
I knew how preparation and knowledge were key to a positive pregnancy, birth experience and the time after birth. This is why my husband and I decided to take Hypnobirthing classes and have the support of a doula on the birthing day of our first child. Our child was born on January 3rd 2015. We were blessed with the most positive birth we could have ever dreamt of. It was absolutely perfect, in every single way. The loving and respectful prenatal preparation provided by our doula also gave us the foundations for a healthy, positive and happy time after our child's birth. Simply and truly, I can say that, since the last month of pregnancy, my husband and I have been having the best time of our life. To our precious Hypnobirthing practitioner, doula, and birth companion, we have no other words other than a wholehearted…. Thank You Moran Liviani.
While we haven't had our baby just yet; the training, information and insight we've received from this course has been amazing and I would highly recommend it to anyone who wants to approach childbirth with a positive mindset, hoping for the most natural birth possible. Michelle was awesome and certainly brought a calm and relaxed feeling to the experience. We're looking forward to how this all turns out and now feel extra prepared and calm about the whole thing.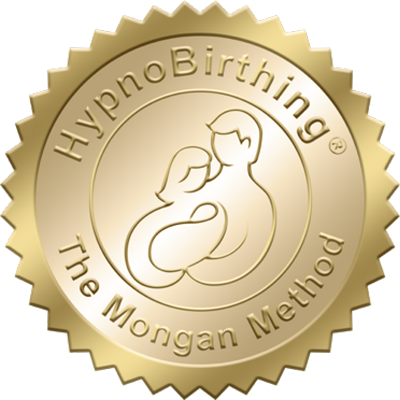 TRUST the Gold Seal of Quality…
The gold HypnoBirthing emblem is a sign of both credibility and professionalism for Educators internationally. This emblem is only given to those Educators who have pushed themselves to successfully complete the extensive HypnoBirthing certification classes and training.