HypnoBirthing Classes for Parents
Do you have a desire to feel empowered and in control of your birthing experience? But you are feeling aomewhat nervous? Register for one of our upcoming HypnoBirthing Classes for expectant parents. Attend a childbirth education course that will help you feel a sense of calm, confidence & readiness for your birth…
The HypnoBirthing International (Mongan Method) Prenatal Course is a series of 5 sessions for 2.5 hours once per week.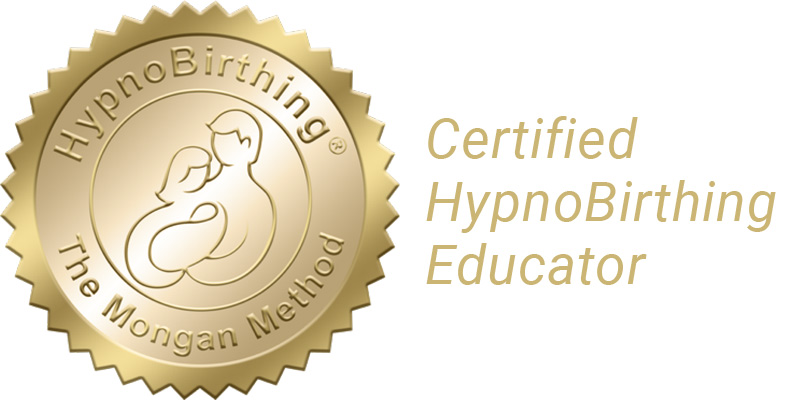 What will you learn?
Effective breathing techniques to use during pregnancy, labor, birth, and parenthood.
Positions and relaxation techniques to support labor & birth
Tools for your birth companion to support you throughout your birth
How the birthing body works efficiently and effectively through the different stages of labor
How stress, fear, and tension can affect the course of your birth and how to prevent it
How to avoid induction and unnecessary or unwanted intervention
What to consider for creating your birth preferences and effectively communicating your preferences with your care provider
How to use affirmations, visualizations, and deepening to enhance the mind-body connection
and so much more!
Click here to learn more about HypnoBirthing and the transformative 5-week course.
This course would benefit you if you:
have fear surrounding giving birth.
want a natural or unmedicated birth.
are planning a scheduled cesarean.
want a vaginal birth after cesarean (VBAC).
are pregnant and wanting a natural birth.
experienced a previous birth that was disappointing to traumatic.
want to take a prenatal class that doesn't focus on pain and medications.
want to be more informed and prepared about what to expect on your birthing day.
are looking for ways for your partner to feel more involved and prepared to support you.
are wanting to make informed choices for your birth plan.
want to connect with your baby and learn about pre and post-birth parenting.
have an interest in life-altering techniques for reducing fear, tension, and pain.
What is included?
5 x 2.5 hour classes
Rainbow Relaxation recording and other relaxation recordings
Bound Parent Handout Book including relaxation scripts, birth preferences template, affirmations and other exercises
Weekly emails to keep you on track with your practice
The most up-to-date evidence-based information on pregnancy and birth (so you can confidently make informed decisions for yourself and your baby).
Support from your educator
and so much more!
Why is it over 5 weeks?
We understand that as expecting parents, you are busier than ever and your time is precious, so being offered a single weekend childbirth class may seem enticing (until you really understand that a quick intensive course will not best prepare you for this major life event).
Self-hypnosis and deep relaxation are highly effective techniques for instinctive births. They are acquired skills that need to be learned gradually and practiced over time. Practicing between sessions provides you with time to condition your mind and body to the responses that make HypnoBirthing – The Mongan Method so successful. There is no shortcut, and this is why our program is taught in 5, 2.5-hour sessions.
How much does HypnoBirthing cost?
Our Educators set their own prices for the classes, but all work closely together in ensuring their pricing is similar. Once you get in touch with your Educator they will outline the cost of the course. We feel confident that this will be one of the most important investments you make for your birth and start to parenting!

I was a bit skeptical about HypnoBirthing, however after the most incredible birthing experience, I gladly own up to how wrong I was! It gave both my husband and I the confidence to advocate for the birth we wanted and that felt natural to us. It was helpful in ways I hadn't imagined possible and couldn't have predicted.

Eliza W, QLD

After a horrific inducted & instrumental 1st birth I was experiencing severe anxiety about having to go through labour & birth again… Cyndi was an angel that kept me grounded throughout the whole process as our doula & hypnobirth teacher which allowed a great start to life for Lottie & helped us bond instantly!

Lindsay P, VIC

HypnoBirthing was truly one of the most beautiful experiences. I recovered very quickly from both births and I truly believe hypnobirthing had so much to do with that and we have such relaxed, beautiful, healthy children. I hope many more woman and their partners can become empowered to have the births they dream of.

Michelle C, VIC